Este fin de semana, Apple Music ofrecerá las performances más icónicas de algunos de los mejores artistas musicales, ofreciendo tres días de entretenimiento de alta calidad sin la multitud de gente. 
Como parte de la iniciativa de At Home With Apple Music, arranca  con estos shows. El sábado cuenta con algunos de los nombres más reconocidos de la música pop, desde Lady Gaga y One Republic, hasta Lil Wayne y J Balvin, brindando hit tras hit. El domingo se trata de los dioses del rock como Nirvana, Nine Inch Nails, U2 y Metallica, mostrándonos cómo es que se hace. Y, finalmente, el lunes termina con sets en vivo de los nombres más legendarios en la historia de la música como Queen, los Stones y Springsteen.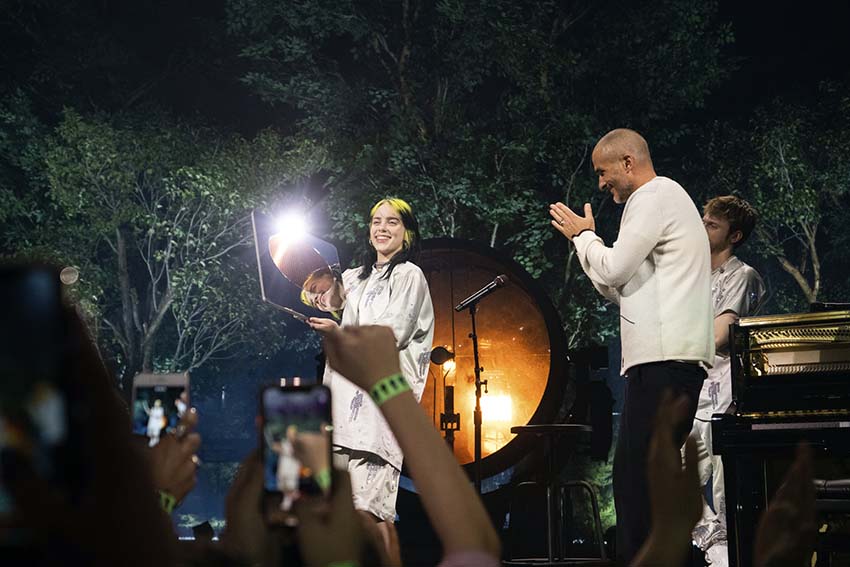 Para cada performance, Apple Music presentará un playlist único de 'Best Seat in the House' destacando las versiones estudio de las canciones de cada evento. 
Agenda completa de los conciertos: 
• Lady Gaga – The Monster Ball Tour Live at Madison Square Garden (New York City, USA 2011)
• Coldplay – Live In São Paulo (São Paulo, BR 2017)
• Amy Winehouse – Live at Porchester Hall (London, UK 2007)
• Lil Wayne – Live at House of Blues Los Angeles (Los Angeles, USA 2008)
• Tyler, the Creator – Apple Music Presents: Tyler, the Creator (Los Angeles, USA 2019)
• J Balvin – Bruuttal (Medellín, CO 2017)
• Camila Cabello – New Music Daily Presents: Camila Cabello (Los Angeles, USA 2019)
• One Republic – Live in South Africa (Johannesburg, ZA 2015)
• Pearl Jam – Immagine in Cornice (multiple cities in Italy, 2006)
• Metallica – Quebec Magnetic (Quebec City, CA 2009)
• Rage Against the Machine – Live at Finsbury Park (London, UK 2010)
• Nine Inch Nails – Beside You in Time (multiples US cities, 2006)
• U2 – 360 at the Rose Bowl (Pasadena, USA 2009)
• Nirvana – Live at Reading (Reading, UK 1992)
• Eagles – Hell Freezes Over (Los Angeles, USA 1994)
• Bob Marley – Uprising Live! (Dortmund, DE 1980)
• Elton John – Live at Madison Square Garden (New York City, USA 2007)
• The Rolling Stones – Hyde Park Live (London, UK 2013)
• Queen – Live at Wembley '86 (London, UK 1986)
• Bruce Springsteen & the E Street Band – London Calling: Live at Hyde Park (London, UK 2009)